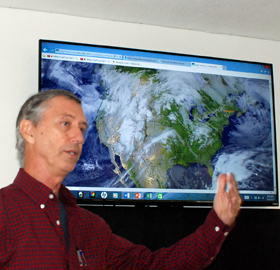 We had a good turnout for Ken Nash's talk on weather and climate (January 10, 2018). Ken is a retired Air Force meteorologist and is currently Director of Physical Sciences and Climatology at the Gulf Archaeology Research Institute.
Ken talked about climate and weather in terms of first principles. That is to say, weather and climate are caused by the flow of heat through land, water and air.
He also contrasted weather and climate. Weather is the current state of atmospheric conditions (e.g., temperature, humidity) at a location. Climate is the average weather conditions prevailing at a location over a long period.