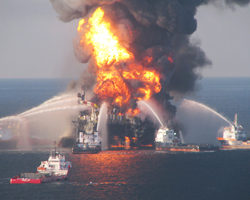 The environmental damage caused by the 2010 Deepwater Horizon oil spill impacted Gulf coastal communities, and industries (e.g, fisheries, tourism). To help mitigate the damage caused by the spill, Congress created the Resources and Ecosystems Sustainability, Tourist Opportunities, and Revived Economies of the Gulf Coast States Act (RESTORE Act).

RESTORE Act funding comes from the monetary damages paid by the parties responsible for the Deepwater Horizon disaster. In Florida, Levy County is entitled to a portion of RESTORE Act funds and is now in the final stages of submitting its Plan. The Levy County Plan contains a project proposed by the Friends of the Withlacoochee Gulf Preserve (Plan project #3). This project was developed in conjunction with Levy County and if funded will provide money to promote science research and education at the Preserve. To learn more about the Levy Country RESTORE Plan visit

You can help. In preparation for submitting its final Plan, Levy County is accepting public comment on Plan projects for 45 days (January 8, 2018 thru February 20, 2018). Positive comments about the WGP and its project will help ensure that it is funded. The comments can be brief one-liners or passionate, long letters. All comments will be included in the Levy County RESTORE Plan submission. You may comment on one or all the projects but we would especially like your endorsement of the Preserve. Sample comment letters can be found here.
Public Comments may be submitted in the following ways: